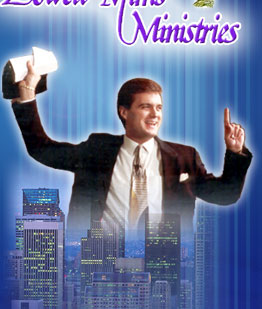 "My mission is to activate, equip and commission the body of Christ in every church to help their pastor Take Their City for God! I also give every pastor proven effective church growth strategies that relate to his vision, so numerical and financial growth can take place as the Lord adds to the church daily. Now more than ever before, every church must Take Their City for God."



--- Lowell Mims
Lowell and Lisa Mims



LOWELL MIMS has been an internationally known church growth evangelist for 25 years. His weekly travels have taken him into over 2,000 churches across America and many foreign countries. He has ministered in hundreds of cities and has flown over 4 million miles. He and Lisa reside in Dallas, Texas with their 3 beautiful daughters.

Lowell receives many invitations each year to speak in churches across America. His ministry includes Taking Your City For God Crusades, Church Growth Crusades, Seminars/Conferences, Revivals in local churches, and crusade evangelism.

His materials such as the international church growth manuals "Taking Your City For God" and "Building A Spiritual Skyscraper Block by Block" are being adapted and taught by churches, universities, and colleges. One church grew to over 3,000 members in three years using his scriptural blueprint, and therefore was awarded the fastest growing church among all denominations for two consecutive years in the state of Oklahoma. (This particular church has been asked by the National Geographic magazine to be listed in one of their issues as one of the mega-churches in America.)
Lowell Mims touches all parts of the world with evangelism. Lowell is known for his compassion and caring for the local church as well as world evangelism. Whether it is an African missionary church or a church in America, the entire ministry is dedicated to "Taking Cities for God by...Building Spiritual Skyscrapers."

As a well-known evangelist and church growth specialist, this is what pastors are saying about his ministry...




Pastor from Texas

"Lowell Mims is greatly loved and highly esteemed by our entire church
body. Lowell's ministry has been a rich blessing to this local body of
believers. His ministry inspires and encourages the local church. Lowell
preaches the gospel in a clear, positive manner. Lowell Mims is an
evangelist of unparalleled integrity. I believe the ministry of Lowell
Mims will bless any church. It is, therefore, my privilege to give him my
unqualified recommendation."



Pastor from Louisiana

"Lowell has ministered at our church in a series of revival meetings that
has proven to be very beneficial to the body. He will bless your church
work very closely with you as local pastor. It is with and great liberty
that I recommend this ministry to you. There WILL be fruit!"

Pastor from Washington, DC

"I give Lowell an unconditional recommendation to the body of Christ.
It does not matter what size the church is, if that body of believers
will follow the program that he has outlined, it will not only minister
to them, but it will bring many new families into the fellowship."

Pastor from Alabama

"I appreciated Lowell's sincere desire to encourage the congregation
to catch their pastor's vision for taking their city. Lowell is used in
encouraging the local church to both believe they can impact their
city and to get solidly behind their Pastor as he leads them. If you have
a desire to take your city or community, then you will find Lowell to be
a great motivator for your congregation."

Pastor from Illinois

"The special services Lowell conducted in Taking Our City for God
were overwhelmingly received by everyone. His unique ability to
articulate the message God has given him and the rich anointing that
rests upon him truly reach the hearts of the people. With great
confidence and enthusiasm I would recommend his ministry to our
greater churches all over America."

Pastor from South Carolina

"In the highest terms I would like to recommend the ministry of
Lowell Mims. My feelings stem from the impact of his ministry on our
church. People were genuinely stirred by the presence of the anointing
of the Holy Spirit. The fruit has remained. A number of our people
have become active in various ministries, as they were inspired
to serve the Lord. Lowell has a healthy respect for the office
of the local pastor. He himself is a man of integrity and that shines
through. He is worth scheduling more than once! We want him back!"

Pastor from New Brunswick, Canada

"Our church was greatly blessed by the dynamic ministry of Lowell
Mims. In each service people responded quickly to his altar call.
Lowell brings with him a wealth of material that can be a help
to any church regardless of size. He is an encouragement not only
to the church, but also to the pastor for whom he displays strong
support. He is not only an Evangelist but a man who has also become
my friend."